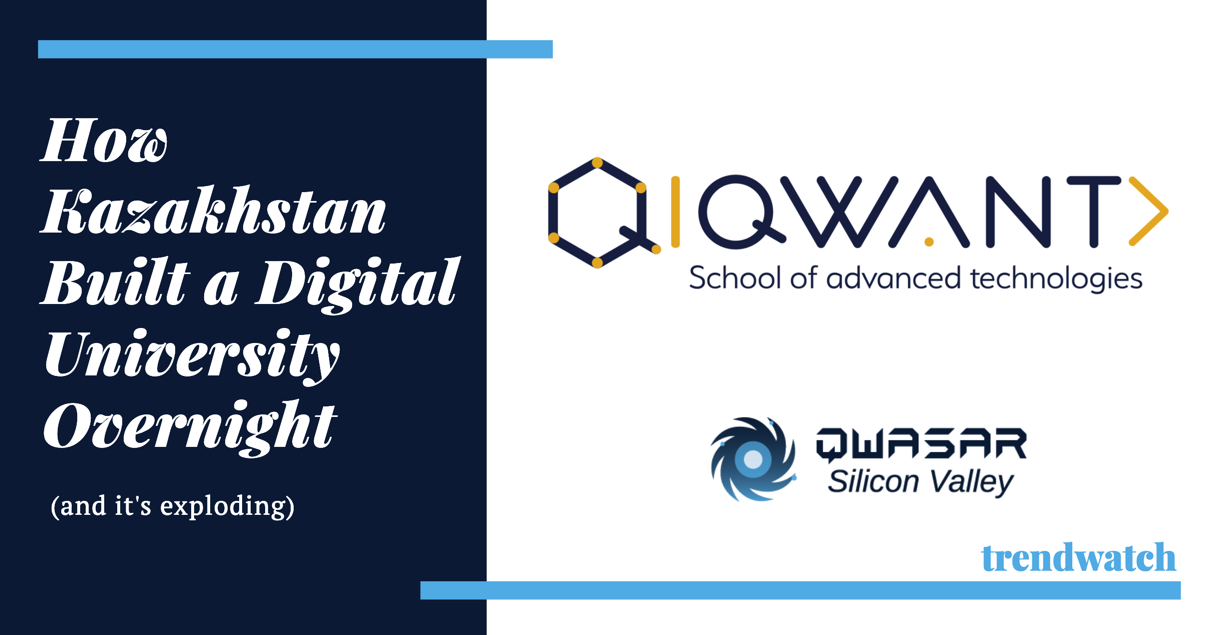 Kazakhstan is a beautiful country, bordering Russia, China, Uzbekistan, Turkmenistan, Kyrgyzstan, and the Caspian Sea. While it may not be Silicon Valley, it has arguably out-teched California and succeeded in launching an innovative digital university during the coronavirus lockdown that has been wildly successful.
Last month, Kazakhstan opened Qwant.kz, a new set of learning programs to train more software engineers at Silicon Valley standards. The program grew from 100 to 400 enrollees in three weeks, does not have a single physical location, hasn't employed a single professor, and has 2,500 applicants for future cohorts throughout the rest of 2020.
A Skills-focused Digital Program
QWANT is a fully online tech school that currently focuses on software engineering and full stack development. Unlike a bootcamp or a computer science degree, the programs are 6-12 months in length but train to software engineering standards of top tier tech companies out of Silicon Valley. The program focuses on the hard and soft skills that make great software engineers rather than on more theoretical computer science.
The program focuses on building strong fundamentals of computer programming and software engineering, ensuring learners gain an agility and comfort not just with the terminal and industry standard tools, but also with foundational principles and concepts on which most software and operating systems are built. Opting for a much more robust and challenging curriculum than bootcamps, the program focuses on learning by doing and encouraging learners to code as much as possible.
Learners face a series of problems, projects, and exercises that reflect real-world software projects. Backed by significant research and learning science, the program uses the Qwasar learning platform in combination with local mentors and Abu, the program manager.
QWANT launched on April 13, 2020, with a first cohort of over 100 students who had successfully applied and passed the admissions process. The three following weeks saw enrollment grow to around 400 students with 2,500 applications.
QWANT is an initiative created by the Bureau for Continuing Professional Development and the AIFC, led by Yernur Rysmagambetov, Deputy CEO.
The University of the Future
QWANT in many ways resembles a university of the future. It's focus on 21st-century skills combined with relevant technology-focused hard skills means learners are ready for jobs as software engineers with no skills gap. While many universities and higher education institutions are cracking under the weight of switching to online courses and struggling to maintain student engagement or even their attention, QWANT's model uses the Qwasar platform and seen high engagement due to the learning model and platform design with students averaging around 7 hours a day on the platform, engaging in online discussions or coding in the integrated development environment (IDE).
As a fully remote program, learners access the platform, other learners, and program mentors entirely online and don't need an expensive laptop or additional software to complete the program. "We're at the beginning of what we can do and where we're going with online learning," said Kwame Yamgnane, CEO of Qwasar and previous co-founder of 42. "42 was good, but Qwasar is quite simply another level. We're on a mission to train millions for the digital economy and to help companies and countries upskill and reskill for the digital economy. Kazakhstan will be ahead of many with the creation of QWANT."
Unlike traditional college formats with professors and lectures, designed originally for knowledge transmission, QWANT focuses on skill development. The program is based around 4 major elements:
project-based learning
peer learning and peer code reviews
technical portfolio development
technical interview preparation and practice
With Qwasar's platform that aligns technical skills and projects to market demands, learners not only develop the specific hard skills that employers look for in Junior Software Engineers, they also develop the softer skills that make for good employees and good engineers. Thanks to the learning design and system developed by Qwasar, QWANT learners develop skills in structured problem solving, creativity, scientific and analytical thinking, resourcefulness, how to learn, self-management, project management, and how to translate a project into technical specs, an architecture, and plan including decision points on programming languages and frameworks.
Add to this the IDE, the real-world code review system with an integrated Git and rubric, QWANT is perhaps one of the most advanced, innovative programs for tech talent development in the world. With a mastery-based learning system, a collaborative and group-learning approach, and technologically advanced platform that allows learners to advance at their own pace, it's no wonder that the program has had so many applications in such a short space of time.
Accessible, Scalable Education
As a largely government-backed initiative, QWANT is a great example of accessible, scalable education that leapfrogs older systems, as noted by the Brookings Institute. It's exactly these kind of learning opportunities and programs that will enable nations such as Kazakhstan to not only compete on the global world stage for tech talent, but to start leading.
QWANT's program is currently free and uses a skills-based application system, reflecting the increasing trend among employers to look for skill rather than degrees. QWANT is looking at adding the opportunity for learners to "skill up" into the program if they don't meet the application requirement.
Thanks to the comparatively low cost per student, QWANT has kept their costs manageable while still delivering top-level skill development opportunities to essentially any young person with a computer and the level to pass the application.
Unmatched Launch in History of Education
Apart from the impressive learning design, platform, and accessibility of the program, QWANT is equally to be admired for an as yet unmatched launch of a university and program that scaled from 0 to just under 400 in 3 weeks, with growth up to 1000+ in the coming 4 months. There is no university in the world that has yet to scale from 0 to 1000 in 6 months.
The QWANT team not only have a vision to train thousands for the digital economy, they also have the flexibility and drive to adjust in the changing coronavirus-times. Understanding the capacity of the Qwasar platform and how it enables scaling quickly and easily, the team decided to grow their program and university almost overnight, and have met with success thus far as well as increasing demand nationwide.
At a time when the world questions what the future holds, how to reskill and upskill millions, QWANT and the country of Kazakhstan should be recognized for their impressive launch amid a rather turmoil-fueled period in history.
How They Did It
The AIFC and BCPD were issued a challenge from the government to begin developing technical talent in the country, in addition to additional fintech talent. Having met with the Qwasar team on a trip to the San Francisco Bay Area, they immediately saw an opportunity to start and grow a program that was low cost, high level, and scalable.
Using the Qwasar platform and working with the Qwasar team, the AIFC and BCPD created QWANT, assembled a team, and began recruiting for the program. With a lot of hard work, messages over Telegram, and consultation from Qwasar, they successfully launched despite challenges from the lockdown situations.
Elmira Obry, QWANT Project Manager and Head of Tech at the BCPD shared how the team rose to the challenge of pivoting to an online program:
"The launch of QWANT in the face of the pandemic was challenging, but as professionals in change management, our international team carried on to adhere to the promised timeframe and even increased student admission numbers by 4x. We took a positive risk to pivot to a project with no limitations in facilities and transferred our physical setup online. We are expecting that QWANT would create a positive impact on the technological transformation of Kazakhstan through raising qualified human capital and IT talent."
With the number of applications mounting quickly to well over 500 and soon 1000, the QWANT team decided to expand the program, add cohorts, and increase enrollment over the span of three weeks. With a fairly straightforward onboarding process and a learning system design that encourages learners to take responsibility for their own learning, adding a new cohort was not only doable, it made further use of their existing resources and reduced the overall cost per student.
Fueling Local Technical Talent
QWANT's goal is ultimately to fuel the national economy, particularly in Nur Sultan, the nation's capital. An increasing demand for software engineers and growing opportunities for tech-based startups in the area meant growth in demand for learning opportunities tied directly to software. That combined with the presence of US companies including Proctor & Gamble, CocaCola, Amway, Citibank, Chevron, John Deere, ExxonMobile, Caterpillar, BakerMcKenzie, GE, Kimberly-Clark, Morgan Lewis, and Pepsi, means growing opportunities for the country to attract and retain investment and job growth.
Deputy CEO of the AIFC Authority Yernur Rysmagambetov shared how the program brings value to the region and beyond:
"Our QWANT project is making a valuable contribution to a transition of AIFC from regional financial hub into a digital international financial Centre. Wider implementation of international best educational practices and training of IT professionals would enhance AIFC's technological leadership and attract new participants through the development of digital services."
"There are some talented programmers at QWANT," said Gaetan Juvin, CTO and head of academics at Qwasar. "Our curriculum is tough compared to other computer science or coding programs, but that's what you need if you want to develop a strong industry and compete internationally for talent."
Levelling the International Talent Field
On a more international level, the growth in remote work, particularly in light of the coronavirus situation, has meant an official lifting of geographic closer doors and an increased potential for talented Software Engineers, no matter where they are in the world. Globally, the demand for software engineers, AI/machine learning engineers, DevOps engineers, and full stack developers trained to Silicon Valley standards is only increasing. Putting talent at that level means attracting companies who aren't interested in software support roles but in software development, which tend to be higher paying jobs.
A Model for Other Countries and New Online Learning
QWANT is undoubtedly a model for other countries to follow in their pursuit of an innovative learning program for tech talent. Further, it's a new online learning model that beats out watching a lecture on via online video or worse, watching a pre-recorded lecture with little interaction or engagement. QWANT is an example of how to create and scale engaging online learning and of how to invest in workforce development in a global digital economy.
We're excited to see the program grow and honored to be working with the team at QWANT, BCPD, and AIFC.
Follow Qwant on Facebook or Instagram
For Qwasar-related inquiried, please contact Jennifer at jennifer (at) qwasar.io.