Recently, we sat down with Damany Fisher, a Regional Director of Special Projects for the Bay Area Community College Consortium. Damany shared great insights into his passion for helping students of all backgrounds with education and employment opportunities.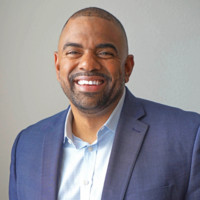 Damany, tell us a bit about yourself and what you do.
My name is Damany Fisher and I am the Regional Director of Special Projects at the Bay Area Community College Consortium. My job is to ensure that community colleges are teaching the skills that employers need. Along with other regional directors, we function as the connective tissue between community colleges and employers. Ultimately our goal is to ensure that our students are able to get jobs that pay livable wages. We want our students to learn the right skills that are in line with industry needs and industry standards, and that these skills lead to jobs that pay livable wages.
What is it about your background/experience that you have been able to use recently in your job?
I think that having worked in student services and having worked directly with students and experiencing some of the challenges that students face, particularly around employment has really influenced me and made me want to be in this position and to focus more on workforce development. I see that there is such a great need to create alternative routes for students who may not otherwise be interested in pursuing a bachelor's degree or perhaps they don't have the resources to pursue a bachelor's degree. What are some alternative routes that students can take that will allow them to develop the skills necessary to get a good paying job? I have also worked with students with conviction histories and felonies on their record. Through that experience I have seen just how challenging it is for that particular population. And that is another reason why I wanted to get into workforce development, so I could really help that population and focus on career pathways for students who are formerly incarcerated or have conviction histories.
Tell us about some of the organizations you are involved with.
I have done some work with some re-entry organizations, so I have worked with the Bay Area System Impacted Consortium (BASIC) which is a collection of re-entry programs, including re-entry programs that are located on community college campuses in the Bay Area. I have been trying to raise funds for this consortium to distribute among some of the colleges that have these on-campus re-entry programs so that they could continue to serve those students and also have resources to serve more students.
I have also done some volunteer work with an organization called CROP, Creating Restorative Opportunities and Programs, to develop relationships with potential funders, philanthropic organizations. I have been trying to do some of the same work that I do with the Bay Area Community College Consortium in that I've been trying to connect CROP with other resources and organizations that do similar work. A lot of the work that I do outside of the community college consortium is around re-entry programs.
Tell us about why you started with Cañada Community College and San Mateo Community College District.
It starts with the Vice President of Instruction, Dr. Tammy Robinson, a dynamic leader in the community college system. She is very entrepreneurial, very innovative, forward thinking, someone who thinks outside the box. Unfortunately I think the California community college system suffers from the lack of innovation and imagination, but with Dr.Robinson at Cañada College, she is someone who can see the big picture and understands that the community college needs to be more nimble and agile to respond to the needs of our people. The fact that I would have the opportunity to work under someone who is so passionate about helping people is what attracted me to Cañada College. We share a lot of the same values first and foremost. I believe the position itself was tailor made for someone with my skill set. I have mentioned earlier that I am a collaborator, I am a connector, I like to build programs, I like to create opportunities for students, and this was the perfect job that allowed me to do all of that.
What are you most excited about with the partnership with Qwasar for the full stack developer program?
It's not just the full stack program I'm excited about. I'm excited about all of the different tracks that Qwasar offers. I can't say enough about Qwasar, because I believe in its model so much and I have seen that model in action. I went to visit Project 42, and I know much of Qwasar is really a next generation of that model, but the thing about Qwasar is that because it's entirely virtual and it's even more accessible and equitable than 42. I'm really excited about working with an organization that shares the same values as the community college and it's rare to find a for-profit company that shares that vision. Most for-profit companies, especially in EdTech, are out to make money first and foremost. Qwasar is out to help people and make money at the same time and I think that you can do both. And you can do it in a way that is accessible and within reach of many people. I believe in Qwasar's model, I believe in Qwasar's mission, and I see that mission as aligned with that of the community college system. For me, it was a no-brainer for this partnership to take place. I recognized early on the potential benefits of working with Qwasar and combining the resources of the community college with the instructional model and pedagogy of Qwasar.
Why do you like this program and what we're doing together?
I like it because of its proven pedagogical model, the fact that it is skills-based, the fact that it is project-based, the fact that Qwasar does everything to mimic the kind of environment that students will eventually encounter when they get a job. There's the soft skills component which combined with all of the coding and all of the technical knowledge that is required. I think anytime you can combine those two, you're just going to get a much better product in the end. Our students are going to be ready from day one to either to enter a company as a junior full stack developer or maybe be able to take advantage of some work-based learning opportunity and employers like Capgemini have already recognized the fact that the students that come out of our system are not only technically sound but they also have the soft skills that really is essential, that employers are looking for. Our students are folks who are able to give constructive feedback and receive it. I take it personally, because that is what they have been accustomed to doing with Qwasar. Working with others in a cohort, these are all the things we take for granted. I think that too often our traditional educational model just stresses the information. Stresses like competence versus competence plus the ability to cooperate, to work in small teams, to work on projects, to be able to meet deadlines but working with a team to accomplish that. Those are things that are essential for someone to not only get a job but also to keep a job. And then to have the opportunity to be promoted, to have an opportunity to eventually maybe ascend to a leadership position within that company. They have to have all of these skills. They have to be able to collaborate, they have to be able to work with others. I think the Qwasar approach helps to develop this in our students. I am very excited about it.
Why does this make a good partnership between community colleges?
The reason why this is a good partnership is because by leveraging resources, by partnering with community college, we are able to leverage resources from the state, such as strong workforce funds. And we can use strong workforce funds for what they are intended for, and that is to help people get the skills they need to get jobs. And what I see here is this is what strong workforce funds should be used for and because Qwasar is collaborating with community colleges, Qwasar is able to leverage some of these funds to make the program, to subsidize students going through the program. SO that to me is the ultimate advantage that this partnership has, rather than someone who may just be working directly with Qwasar, which is fine because it's still affordable. When you're talking about $100 - $200/month, that's. But even that for some of our students, even that might be too much. There are some folks who $100-$200/month is a stretch. Even given the fact that there is still high unemployment in California, given the fact that we are still dealing with the pandemic, I think that this partnership and the fact that we are able leverage strong workforce funds to subsidize students in this program is a great thing.
What is something you enjoy doing in your free time?
I love to work out and exercise. We have a Peloton bike and I have been using that on a regular basis. I love to box, I'm not that good but at least I like to pretend that I am. It's important to me to stay physically active. I love to cook and grill outside. I love cooking, working out, listening to music, and watching Netflix. Playing with my kids though is my favorite activity. Going to the playground, playing basketball, soccer, baseball, ballet. I love doing ballet with my daughter. I love teaching her some moves. I would say my favorite activity outside of work is my kids. In general, just being with my family.
Do you have one piece of advice or encouragement for program participants?
Don't stop. Don't stop. Keep going, don't stop. This program is 9 - 12 months out of your life that could shape the next 20 years. Just think about that, you are investing 9 - 12 months to impact the next 20 - 30 years of your life, or the rest of your life really. I think that is something we really need to emphasize to our students. It is a grind, but in 9 - 12 months you will have a marketable skill that will impact the rest of your life. So while it is a major investment, in the grand scheme of things it really is not that much time that you're putting into this particular program. But, the time that you're putting in, the quality of time that you're putting in will be a game changer.
We want to thank Damany for his time in speaking with us about his work as the Regional Director of Special Projects. We are so excited for the developments of this partnership and for all the program participants.