Veterans, the men and women who have served their country are especially great at a lot of things.
Transitioning from the military to civilian life is a feat of its own. There are a whirlwind of emotions and tasks that you encounter on your journey into new activities. This new environment will take some time adjusting to, as with anything. But, especially for veterans, there are certain paths that will be more aligned with past experiences. One of these is the tech industry. Maybe it's very similar to your duties in the armed forces, maybe it's totally new to you. Regardless, it is a career path that can be enriching and disciplined in many aspects. There are pathways that don't require a college degree but instead technical skill and can enable veterans to get into jobs sooner.
There are approximately 1.4 million open jobs in the tech world, most of which have a starting salary of $60-130K depending on geographic location and past experience. With high competition for talent, many companies offer a lot of perks too such as on-site meals, free snacks, free coffee or tea, gym memberships, flexible work schedules, and more.
Why Tech?
Tech is one of the industries that allow for a smooth transition of transferable skills. A lot of the tasks and tactics used in the military are symbiotic with skills used in tech. It is a very engaging and active career with constant changes. New developments and products are being introduced daily that are changing the way we interact with the digital world. Tech is an industry where many veterans can thrive and I've seen quite a few veterans over the last 5 years successfully transition into tech thanks to their discipline and work ethic. In fact, just recently the company that hired one of our vets in Denver asked us for more candidates because they were so impressed with the quality and caliber of our graduates.
Some of the skills that veterans have include:
Building stuff, doing stuff, breaking and fixing things
Self-discipline
Self-motivation
Problem solving
Full level of commitment
Strong attitude
Willingness and want to succeed
Teamwork
Communication
Helping teammates to solve problems together
Further, the demand for tech jobs is ever growing, and looking at job boards in May 2021, there were just over 30,000 software jobs that required a security clearance - great options for veterans.
A lot of tech jobs are also remote or can be done remotely, meaning you have options for living where you like or even traveling. Certainly the pandemic helped boost the number of remote jobs, and demand for remote work options remains strong. The World Economic Forum's survey on remote jobs found that tech jobs were the number one in-demand remote jobs.
CompTIA notes that the median tech occupation wage is almost twice that of the median national wage. Further, despite the pandemic and economic challenges, the US is expected to add almost a quarter of a million tech jobs in 2021. Harvey Nash and KPMG's survey of 3,000 tech leaders and CIOs found that 65% reported hiring challenges - an incredibly high number that shows the shortage of skilled tech talent.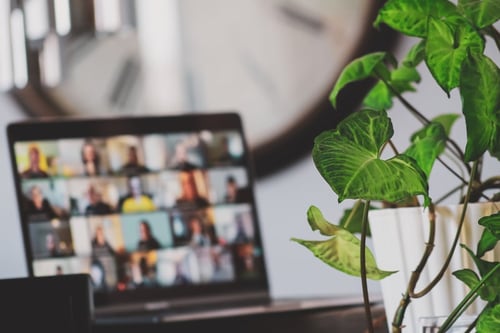 What Tech Jobs Are Available and Are They For Me?
There are different general categories of tech jobs available. As "tech" moves across every industry, there are also options to focus and apply technological skills to a specific area, such as the finance industry, the automobile/transportation industry, or the healthcare industry.
Thousands of jobs are available in two major areas: full stack development and software engineering. However, there is a high and growing demand for data scientists, cloud/DevOps engineers, and AI/machine learning engineers. Here's a quick summary of each:
Full Stack Developers focus on building web and mobile applications that range from a small number of users to enterprise applications. If you like creativity, design and visual aesthetics, and solving problems, then this is likely a good fit for you.
Software Engineering focuses more on backend development, architecture and how different elements work together with a high degree of complexity, algorithms, and really understanding and exploiting how a computer works. If you like structured problem solving, maths, and the challenge of combining both big picture and in-the weeds details, then this is likely a good fit for you.
Data Scientists use data analysis to uncover useful insights that apply to businesses. You should really love data, and helping other people love data, because you will spend a lot of time with data structuring, formatting, analysis, and visualization, but it can be rewarding.
Cloud/DevOps engineers are responsible for the cloud-based infrastructure that supports millions of applications but that is rarely seen by users. You're a behind-the-scenes guy who likes to monitor everything and know when something breaks. And when it does break, you will be the one they call to fix things fast, so you should be ok with ebbs and flows of work and solving problems.
AI/machine learning engineers also spend a lot of time with data and algorithms. Often, they are looking at performance and optimization, working first to build algorithms or prediction machines that work at 85% before spending the same amount of time improving them up to 90%. You should really like maths, linear regression, and find satisfaction in constantly improving your work.


Highly Transferable Skills and How to Build Technical Skills
Veterans have a suite of program options from which to choose if they want to pursue various types of training for tech jobs. Most programs still use traditional knowledge transmission, but a select few use active, hands-on learning, a style of training that often suits veterans better than sitting in a classroom. Three hours of lectures and sitting can be grueling for anyone, especially those who are used to an active lifestyle. Hands-on, project-based learning is more flexible and engaging than passively receiving information for hours on end.
Bootcamps can be an option, but they are often expensive and won't necessarily train you to the level that industry requires. If you look at outcomes reports from bootcamps, many don't have strong on-time graduation rates or strong employment rates; most of their learners spend an additional 6 months after graduation trying to gain employment. At the other end of the spectrum, colleges and universities offer 4-year degrees, which are often also expensive. I found sitting in a lecture or passive learning in general boring and not suited to how I learned best.
Hands-on active learning is the very model that the military has used successfully for decades. One of the previous IT schools I founded has an intensive, 4-week training session called 'the swimming pool.' A journalist once asked me why we named it that. The Navy Special Ops team in France has an infamous 'swimming pool' that they used for recruitment, and it is not easy (I am from France, with a close relationship with the Navy over there). It's similar to trying to become a Navy SEAL here. In principal, it's sink or swim, pass or fail. The IT school adopted the same admissions principal, but with coding exercises, not fitness challenges.
From training exercises to practicing real-world scenarios and drills, everything is geared towards building skills and competencies to be confident in your job when you need to be at any given moment. Those few programs who adopt this kind of learning design are ones that often suit veterans well because they're familiar with the discipline, mental and emotional strength, frustrations and rewards that come with training, practicing, and skill development.
Veterans possess unique skills in their trade that are incredibly transferable to a career in the tech industry. They are self-disciplined, self-motivated, and rigorous, three skills that are key to being a good engineer or developer. They know what it's like to have to work in a team, and the power of communication - again, highly transferable to being a software engineer or developer.
In hands-on tech training programs, veterans have a large portion of what they need to succeed in their tech training from their innate determination, strength and their power not to give up. They have the will and desire to succeed at everything in life and that has been proven already in their military service. They are up for a challenge and willing to break down any barriers to success.
Some training programs offer part-time options, which can be great for servicemen and women as they prepare to leave the military. Part-time options can also offer the flexibility to work as necessary to support your situation, living arrangements, and financial situation.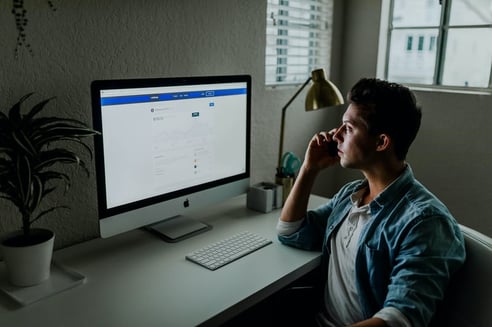 Will I get a job?
The ongoing question for any veteran returning from service is whether or not they will be able to find a job. This question plagues veterans especially as they return from a career that is very different from that of most civilians. But in the tech industry, there are endless possibilities for employment. Not only are there jobs worldwide and remote, but positions and titles for every skill and ability level. These jobs can range from full-time positions to freelance and contract work, and are mostly in the areas of software engineering, data science, full stack development, DevOps, and AI/machine learning.
Many tech companies hire veterans, and some, such as Amazon, have specific entry pathways for veterans with some previous technical experience into software jobs. Proving you have both the technical skills and capabilities and the soft skills that industry demands can be achieved through a strong technical portfolio, strong and fundamental technical skills and knowledge, software development experience that shows your familiarity with the development lifecycle, and strong preparation for technical interviews. Not all programs cover these items, but the good ones will. These four elements will significantly increase your chances of gaining employment in software-related careers.
Further, one of the most beneficial aspects of veterans searching for jobs is their network. There are an estimated 18 million veterans in the United States, all of whom have a similar past. All of these people share a common path that led them to their employment search. This network can be leveraged in so many ways to find future careers.
There is an ever-growing demand for software-related jobs in recent years and veterans can fill these open positions with advanced, skills-based training and strong determination. If you are a veteran and looking for your next career in the workforce, the tech industry should be a top consideration.
Qwasar Supports and Empowers Veterans
At Qwasar, our mission is to prepare as many people as possible for a career in technology with training that's accessible, affordable, and engaging. Veterans will find numerous opportunities to enlist in multi-level tech talent programs, welcomed into an active community of motivated thinkers, coders, engineers and developers. With some pathways completed in just 9 to 18 months, either full- or part-time, individuals get into the workforce faster, also taking advantage of networking opportunities to help secure future employment.
We are believers in project-based learning, providing individuals with programs or projects that need to be created, built, or solved. This style of learning puts students in the driver's seat, able to research new concepts, embrace trial and error and learn as they build, enhancing critical thinking, creativity and innovation.
Partner Program with Claris
Qwasar recently began a partnership with Claris International Inc., an Apple subsidiary, to provide the Claris App Developer Training Program, a nine-month program designed to open career paths in one of the technology's fastest growing sectors. This training offers an affordable opportunity to develop coding and low-code app development skills using Claris FileMaker. Students focus on building both technical and business skills to prepare for practical, real-world application development.
Throughout the program, students are part of the Qwasar learning community and join virtual meetings a couple of times per week. Participants then complete six weeks of projects focused on low-code development using Claris FileMaker and Claris Connect before moving on to a final, internship-like project with a mentor from the Claris Community. This gives students the opportunity to develop their technical portfolio before applying for jobs and internships.
At a cost of $50 per month, the training program aims to be accessible while still facilitating a solid commitment to learners, including veterans. This program offers a significant opportunity to build technical and soft skills that provide an edge in the job market.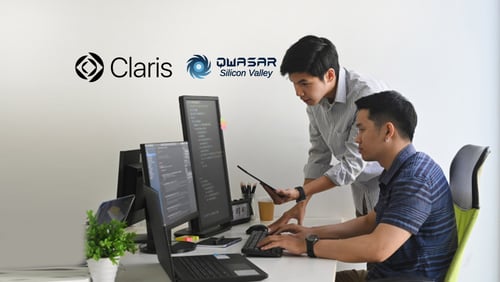 To apply to the Claris App Developer Program, submit your application here: https://qwasar.io/tech-talent-programs/claris-app-developer-program/